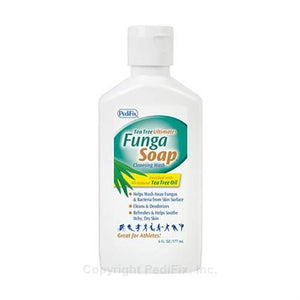 Tea Tree Ultimates® FungaSoap® 6 oz. by Pedifix
Tea Tree Ultimates® FungaSoap®
Win the fungus battle! This patented soap is enriched with Tea Tree Oil — used since ancient times as a disinfectant, to fight germs, and as an antiseptic to help prevent infection. Use alone, as a complement to anti-fungal medications, and for longer-term relief and prevention of foot and body fungus problems.
Patented Tea Tree Oil Formula Works Wonders!
Helps Wash Fungus & Bacteria Away from the Skin Surface
Soothes Itchy, Dry, Irritated Skin
Great Body Wash to Clean, Refresh & Deodorize
Helpful for Skin Problems on Feet, Legs, Torso, Arms, Neck and Face, Too
Liquid Foot & Body Wash, 6 oz.
---
We Also Recommend