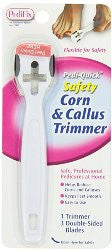 Pedi-Quick Safety Corn and Callus Trimmer by Pedifix
PediFix Pedi-Quick Safety Corn and Callus Trimmer
Helps reduce corns and calluses

Keeps feet soft and smooth

Works safely and easily

Flexible handle prevents excess pressure
DIRECTIONS
Before use, we recommend soaking your feet in warm, soapy water to cleanse and soften skin. Dry thoroughly. With repeated strokes in same direction, move file across affected area to take off unwanted skin. Stop use if area becomes painful or irritated.

CARE
Hand wash in warm soapy water. Rinse thoroughly. Air dry before reuse.
WARNINGS
Do not use this product if you have diabetes, or a circulation disorder. Do not use on foot warts.
---
We Also Recommend