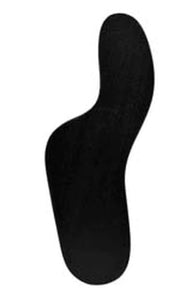 Morton's Toe Carbon Fiber Extension/Orthotic (Flat)
Morton's Toe Carbon Fiber Contoured Insoles
The Morton's Toe Carbon Fiber Flat Insoles are designed to lower the limit of motion in the big (large) toe joint or a ligament sprain around the toe with limited movement and bending during work, athletic activities, and everyday life. These insoles are ideal for those requiring a rigid shoe insole to prevent movement and/or jamming of the big toe region.
Please Note: These insoles are versatile and can be used for either the left or right foot, just order according to your correct shoe size.
Ideal for the prevention and treatment when dealing with the "Big Toe" or first metatarsal joint for:
Turf Toe
Arthritis
Forefoot Pain
Hallux Limitus
Hallux Rigidus (Rigid Toe)
Light Sprains and Fractures
Metatarsophalangeal Joint
Metatarsalgia
Big Toe Fractures
Midfoot Arthritis
Morton's Toe
The Morton's Toe Carbon Fiber Flat Insoles are made of high strength carbon and glass fibers in a tough polyolefin matrix and run 1.69 to 1.91 mm thick depending on size.

For Sizing, each order comes with one (1) plate.
These insoles are available in two sizes:

Short measures - 8 inches heel to toe or Men's 5-8 / Women's 4-9
Long measures - 10 inches heel to toe or Men's 8.5+ / Women's 9.5+

Note:: Ideally you want to insert the insole underneath the big toe all the way up into front of shoe regardless of where the other end reaches as it does not need to extend to the end of your heel. Ideally use double sided tape to attach the insole to the underneath of your existing insole. This insole is hard and rigid and ideally is placed under an existing insole or orthotic.
---
We Also Recommend