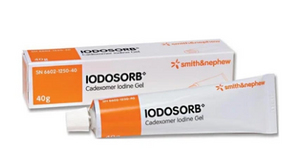 Iodosorb Gel 40g Tube
Cadexomer Iodine-based product. Removes barriers to healing by its dual action antimicrobial and desloughing properties. The broad spectrum antimicrobial action is provided by the sustained release of iodine and the desloughing action is provided by the unique cadexomer matrix.
Benefits:
Clinically proven to treat infection
Effective deslougher
High absorbency
Wide range of high level clinical support
Versatile
Changes color as iodine is released
Encourages wound healing environment
Helps eliminate odor
40g size tube

Important information
Ingredients
Ingredients: As IODOSORB Gel contains 0.9% w/w iodine it should not be used in patients with known or suspected Iodine sensitivity.  
---
We Also Recommend