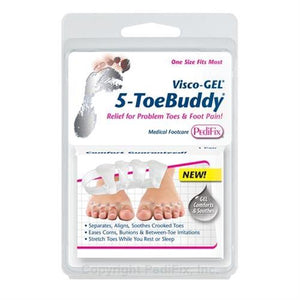 Visco-GEL® 5 Toe Buddy by Pedifix
Visco-GEL® 5 Toe Buddy Spacers
Soft, anatomically-shaped 5-ToeBuddy® helps relieve common toe problems and foot pain. Use in shoes to divide crooked and overlapping toes that rub, or while resting or sleeping for a therapeutic toe stretch. Customize easily to help 1, 2 or 3 toes and specific foot conditions, including hammer toes and sore toe tips.
Relieve Toe Pain Instantly
DIRECTIONS
Place Spacer between large and second toes. Pull on hosiery carefully and readjust as needed. For maximum benefit, do not wear shoes that interfere with toe freedom.

CARE
Hand wash. Air dry completely. Sprinkle with talcum powder if gel becomes tacky.
WARNINGS
If you have diabetes, consult your doctor before using. Do not place over an open wound. If irritation, discomfort or additional toe pain occurs, discontinue use. If symptoms persist, visit a foot specialist.
---
We Also Recommend