Left Foot Driver (Floor Mounted)
Regular price $225.00 Sale
The

(LFA)

was designed for the driver that has lost control of only his right foot, with an

(LFA)

accelerator installed to the left of the brake pedal the problem of applying the gas is no longer a problem.
The (LFA) is the industries leader in design & quality. The (LFA) is extremely adjustable allowing it to be used in virtually any vehicle. The (LFA) is also equipped with a quick disconnect allowing (LFA) to be released and removed from the vehicle when not in use. Only the mounting plate is permanently mounted to the floor.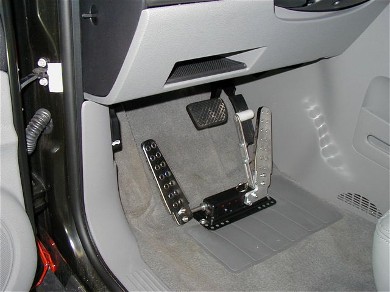 Necessary when right foot use is impossible or limited

Floor mount plate. Plate remains on floor for quick disconnect.
 

A left foot accelerator pedal device which allows persons lacking sufficient functionality of the right foot or right leg to operate a motor vehicle accelerator pedal using their left foot. The device incorporates an accelerator pedal activator which engages the motor vehicle accelerator pedal and is operable attached by a main shaft to a left side accelerator pedal. The main shaft is supported by a base unit which is removable attached to a base plate affixed to the vehicle floor. By depressing left side accelerator pedal a person lacking functionality of the right foot may operate the vehicle while the device may be easily removed from base plate allowing a person of normal functionality to operate the vehicle.

 

 

 

Warning: This item Should No Be Installed In A Vehicle With Automatic Adjusting Pedals Unless That Feature Is Disabled.